ENERGY STAR is a program first introduced by the U.S. Environmental Protection Agency (EPA) in 1992. It is designed to save energy. While many people relate the name to the energy-efficient performance of individual appliances, lighting and equipment (heating, cooling and water heating), the ENERGY STAR program actually is designed to rate the performance of an entire home.
To earn the ENERGY STAR, a home must meet the EPA guidelines for energy efficiency (www.energystar.gov). Such a home will be at least 15% more efficient than homes built to the 2004 International Residential Code (IRC), a widespread building code standard for residential construction (see YOUR HOME, Building Codes – Myths and Realities at www.criterium-engineers.com). Further, the EPA guidelines for an ENERGY STAR home include various energy-saving features that are intended to make them 20% to 30% more efficient than "standard" homes.
The ENERGY STAR program includes the following:
Efficient Home Envelope – This includes properly installed, effective levels of wall, floor and attic insulation, comprehensive air barriers and high-performance windows.
Efficient Air Distribution – Ducts installed for heating and/or air conditioning should have minimum air leakage and optimum duct insulation. Also, effective distribution of air is considered.
Efficient Equipment – Energy is used in homes to heat and cool the living spaces as well as heat water. The efficiency of that equipment greatly affects the overall energy consumed by that home.
Efficient Lighting – Lighting fixtures and bulbs also use energy. ENERGY STAR–rated fixtures are preferred.
Efficient Appliances – Stoves, clothes washers and dryers, refrigerators and dishwashers all consume energy. ENERGY STAR–rated appliances are preferred.
Any home that has earned the ENERGY STAR will have a label as shown at the left. An independent Home Energy rater evaluates the completed home, conducts tests and determines if the house has earned the ENERGY STAR. The tests may include infrared scans, blower door (to check for envelope air leaks) and duct blasting (to check for duct system air leaks).
With the current popularity of Green building, the ENERGY STAR program has lost some of its prominence recently. Programs such as LEED (Leadership in Energy and Environmental Design), developed by the U.S. Green Building Council (USGBC), and the National Green Building Standard (NGBS), first developed by the National Association of Home Builders (NAHB) and more recently modified and endorsed by the American National Standards Institute (ANSI), have become more visible.
However, ENERGY STAR is certainly not going away, and its objectives and standards are quite compatible with LEED and NGBS. On the EPA Web site, ENERGY STAR is noted as a starting point for Green construction. Green standards, after all, have energy efficiency as one of their major cornerstones. And both the LEED standards and the NGBS make reference to the use of ENERGY STAR equipment, lighting and appliances to gain points toward certification as a Green building.
Ultimately, while the names may be different, the objectives are the same – to save energy. Of course, LEED and NGBS extend beyond energy savings to include water conservation, indoor air quality (IAQ), low-impact site work and sustainable materials to complete the Green building concept. But energy efficiency is still a very big part of each program.
ENERGY STAR, as a home rating system, is about new construction. While that is important, there are more than 100 million existing homes in this country. How does ENERGY STAR help those homes?
For starters, try the do-it-yourself audit at www.energystar.gov (in the Home Improvement section, look for the Home Energy Yardstick). It's a good starting point and helps you see how your home compares to others.
Then the ENERGY STAR rating on appliances, lighting and equipment becomes important. When things wear out, they must be replaced. If you replace those old products with new ENERGY STAR–rated products, you will save energy. However, you should still consider the details: If you want to save as much energy as you can, you should buy the most efficient product, regardless of the cost, but if you want to be sure that the added cost of such products will be offset by the energy saved, you should do your homework; what is the payoff?
Here are a few examples to consider if your appliances are more than 20 years old based on information from the EPA (ENERGY STAR) and the Natural Resources Defense Council (NRDC).
Refrigerators – New refrigerators consume about 75% less energy than those produced in the late 1970s.
Refrigerators with the freezer on top are more efficient than side-by-side units.
One large refrigerator is more efficient than two small ones.
Clothes Washers and Dryers – The efficiency of washers has doubled in the last two decades by using less water and less power. Front loaders tend to be somewhat more efficient than top loaders.
Choose the right size washer. If you have a large family and have to do multiple loads, you could lose any possible energy savings.
Look for a washer with adjustable water levels.
Choose a washer with a higher Modified Energy Factor (MEF), which results in part from a faster spin speed. This allows more water to be removed after the wash, reducing the drying time.
Use a gas dryer rather than an electric dryer where possible.
Dishwashers – Newer units are more efficient and more effective at cleaning.
Choose a dishwasher with a "light wash" or "energy-saving" wash cycle.
Look for dishwashers that have an energy-saving cycle that allows dishes to be air-dried with circulation fans.
Room Air Conditioners – The most efficient room air conditioners have higher-efficiency compressors, fan motors and heat-transfer surfaces than previous models. A high-efficiency unit reduces energy consumption by 20% to 50%.
The biggest unit isn't always the best choice. A smaller unit running for a long period of time operates more efficiently and is more effective at decreasing humidity than a larger unit that goes on and off frequently.
If you're comparing several similar units, choose the one with the highest Energy Efficiency Ratio (EER). The minimum EER required by federal law is 9.7; the most efficient air conditioners of 2008 have an EER of 11.8.
Central A/C – If your central air conditioning system is more than 10 years old, replacing it with an ENERGY STAR model could reduce your energy consumption for cooling by 20%. Look for Seasonal Energy Efficiency Ratings (SEER) of 13 or better — older units are often rated at 6 or 7.
Get a reliable contractor to make sure your new unit is the right size for your home, and have it professionally installed.
Have your contractor make sure all your ducts are sealed and insulated. Duct tests require a fan and a pressure gauge — they cannot be done by sight.
Water Heaters – Water heating is typically the third largest energy expense in your home, accounting for about 15% of your energy bill. An old water heater can operate for years at very low efficiency before it finally fails. If your gas water heater is more than 10 years old, it probably operates at less than 50% efficiency.
Calculate how much hot water your household uses at peak times. Figure that a clothes washer on hot wash/hot rinse can use about 32 gallons of hot water, and a shower, 20 gallons. Washing dishes by hand can use 10 to 15 gallons, and automatic dishwashers, about 8 gallons.
Match this figure with the "first hour rating" (FHR) on the EnergyGuide label. The FHR measures how many gallons of hot water your heater can deliver during a busy hour.
Once you've found the right FHR range for your household, check the unit's Energy Factor (EF), which rates efficiency. A high-efficiency gas model would have an EF around 0.8.
A natural gas unit will cost less to operate than an electric one.
Lighting – Switch to compact fluorescents.
Home Electronics – When buying electronics, do look for the ENERGY STAR label, but also keep a few general caveats in mind.
Ink jet printers tend to be more energy-efficient than lasers.
LCD televisions and monitors draw less power than CRT or plasma screens.
Small lightweight power supplies tend to be more energy-efficient than large, heavy transformer-based power supplies.
For more information about ENERGY STAR, please visit: www.energystar.gov
And from there … even the best equipment uses less energy if it's used less. ENERGY STAR or not, evaluate your energy use, temperature settings, length of showers, etc.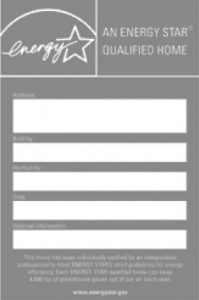 Look for the ENERGY STAR on the breaker box of your next home.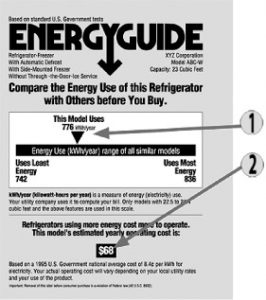 Estimated energy consumption on a scale showing a range for similar models
Estimated yearly operating cost based on the national average cost of electricity.
Refrigerators
Estimated annual energy savings:  $100
Clothes Washers and Dryers
Estimated annual energy savings:  $110
Dishwashers
Estimated annual energy savings:  $25
Room Air Conditioners
Estimated annual energy savings:  $14/unit
Central A/C
Estimated annual energy savings:  $500 (average house, warm climate)
Water Heaters
Estimated annual energy savings:  $250
Lighting
Estimated annual energy savings:  $50 (for 10 bulbs)
NOTE: Savings are approximate, for average utility costs in an average size home.